TGIF, my friends! I've been in Atlanta the last two days for work - it was really good, really informative, and really productive but my brain is tired! And we went out last night, so my body is tired too!
Tonight we are doing a Halloween Wine Tour in NC: not really sure what to expect but it sounds like fun. We have a few other fun things planned and will be spending the weekend at mom's mountain house, so I'm looking forward to it.
And one more
[kinda extremely important]
thing: my best friend Lesley is going to be induced on Sunday with her first baby! She is not due until the 29th, but the baby has intrauterine growth disorder, which means she has basically stopped growing in the womb and there's no point in her staying in there, since she is technically full term now. So the world will get to meet her 2 weeks earlier than planned. I am so excited, but so sad that I can't be in FL to experience everything with Lesley. I am praying everything goes well and easily and that little Avery is perfect and healthy!
-------------
Of course, I'm
linking up
again this week for Friday's Letters!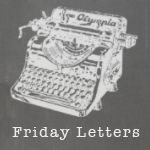 Dear Sarah:
Eeek! Baby #2 is here!! I can still remember when you told me you were going to have baby #1 - and look at your family now! I can't wait to meet your sweet new addition.
Dear Lesley:
you're having precious, tiny Avery on Sunday! I cannot believe you're going to be a mother in about 48 hours. I pray for an easy, swift delivery and a healthy baby Avery!
Dear wine tour:
hope I don't overdo it on the tastings tonight - I don't need to wake up with a wine hangover tomorrow.
Dear mountain house/Happy Place
: can't wait to spend the weekend with you and your gorgeous views.
Dear apples
: okay, seriously now. I am going to pick you this weekend, I swear. I know I've said this for 3 Fridays now, but
dang it
, apple picking will go down this weekend.
Dear husband:
I have missed you these last 2 days! Can't wait to see you this afternoon.
Dear followers:
thank you SO MUCH for all your sweet comments and for your support! It makes me smile every single time I see that I have a new follower or read one of your comments. Keep it coming, lovelies!
I hope you all have a great Friday, Saturday and Sunday!