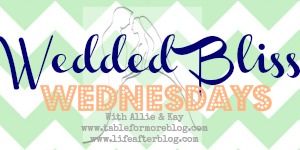 I linked up last week with Kay and Allie for Wedded Bliss Wednesdays and really enjoyed reading about everyone's hubby! This week the questions are all about Date Night. Who doesn't love a date night?
How often do you and your husband have a date night?
We probably only have a true date night about every 6 weeks (and by "true date night", I mean just the two of us, eating out somewhere a little special, dressing up a little, etc). But since we don't have any kiddos yet, we have the flexibility to go out anytime we want - so sometimes we'll go out just for the heck of it :)

What did you do on your first date?
The situation around our first date was a little different (I will be posting about that in detail soon!). But our first date was pretty normal: Alex met me at my place when I still lived in Gainesville. We went to my favorite restaurant there, Tapas and Tinis, which is a martini bar and tapas place (in case you couldn't tell from the name). Afterward, we went back to my apartment and watched "What Women Want", one of my all-time faves. And we had our first kiss: awwwwww!

What is your favorite kind of date night?
I love to get dressed up, but that's not always ideal or possible. But I think my favorite kind of date night involves multiple places - be it one place for dinner, one place for drinks, one place for dessert, or dinner/movie/entertainment, etc. That way, the whole night keeps getting mixed up as you go.

How do you do date night on a budget?
We buy a lot of Living Social/Groupon deals to nice places or places we've been wanting to try. I also grab coupons for restaurants whenever I see them. Alex likes to kid that we never eat out without some sort of discount, which isn't completely true but I'll admit it's not far from the truth!
What is the best kind of date your husband could surprise you with?!
Honestly, I'm pretty easy to please! But I would love to come home from work on a Friday night, have him greet me with a glass of wine, tell me he's picked out an outfit for me to change into and to hurry up and change because we have reservations at a new place we've been wanting to try! But I would be equally excited to come home to a meal that he had prepared. And wine - don't forget the wine. ;)