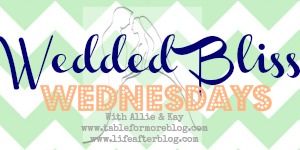 It's time for another Wedded Bliss link-up, and this week it's all about Gifts. Who doesn't like to talk about gifts? You know those people that are like, "I'm not really a birthday person..." Yeah, I am NOT one of those people. I think you should celebrate the fact that you've been blessed with another year!
And if some new clothes or goodies happen to come with it, so be it!
What is the best gift to give your husband?
This is really tough, because he has everything! And he is really bad about waiting to see if "Santa" will bring it to him - he'll just buy whatever it is.
I've had the most success with just asking him what he wants and then I shop around to get the best deal on it that I can. But I always give at least one surprise! Surprises make life fun.
Generally speaking though, I can't go wrong with buying him clothes. The man loves clothes.

What is a meaningful gift that you can give that does not cost money?
Love notes - I think it's sweet to find a little note in your coat pocket :)
Even if it's a quick "I'm thinking about you" text, it gets the job done.

What is the best gift you have given to him?
Here are a few of my personal faves...
For our first Valentine's Day together (we had been dating 2 months and just said 'I love you' for the first time), I got him a key chain that had a little silver pair of golf shoes on it and a tiny tag that was engraved with "Love you and the shoes" - he had (and has) a mild obsession with golf shoes. I know he loved it because the little tag is still on his keys today!

After we had been together for a year, I made him a photobook of the memories. Although I probably appreciate that now more than he does!

For our Anniversary this year, I gave him a framed picture of our first dance at our wedding with the lyrics to the song printed on the mat (Frank Sinatra's "The Way you Look Tonight." Thank you, Pinterest!
What is the best gift he has given to you?
I can't name one, so here are a few of my faves:
My engagement ring (duh).

The first Christmas we were together (we'd been dating a year), he gave me a necklace. Only it was wrapped in a ring box and I thought he was getting down on one knee when he gave it to me - I was sure he was about to propose! Obviously, he did not. (I would have to wait nearly 2 more years for that...). But it was the first piece of jewelry he gave me and I always laugh at the memory!

He brought back a few pieces of costume jewelry from a golf trip to Morocco, and I love them because he risked his life in the Bazaar (okay, half true...) to buy them for me and they're really cool.

On our wedding day, his gift to me was a gorgeous sapphire (my birthstone) and diamond necklace. It is soooo beautiful.
Notice a trend here? I love all that sparkles and shines!
What are you giving this holiday?
Hmmmm...well now, I can't spill all my secrets, because I don't want anyone's surprises to be ruined! But let's say that I have a few things in mind for Alex - likely clothing, but I'd like to do something special for him - just not sure what! While we're on the subject, I am also planning to do some DIY this Christmas for friends, co-workers, and maybe even Alex. Not only is it (usually) less expensive, but it's heartfelt. The problem is that everyone that follows me on Pinterest knows the DIY gifts I've been pinning, so they totally will be like "Oh yeah, saw this on Pinterest..." Ha! Oh well - it's the thought that counts!