Ahhhh...Friday is here once again. And doesn't it feel good?
I do hope that you have some fun weekend plans lined up - or just a weekend full of R&R. I have a little bit of both on the books. I am heading to mom's mountain house to see her and my stepdad today after work, while Alex is heading to Columbia to watch Gamecock basketball tonight and football tomorrow. Then he'll head to the mountain house on Saturday. I'm planning to take our Christmas card pictures while we're up there this weekend - hoping for good weather and puppies that cooperate! :) It should be a pretty relaxing weekend which is what I need after a week of feeling miserable. Plus, a girl's never too old for some mommy time, right?
I love this
link-up
and I've been out of the loop on it the last few weeks - so today I'm back!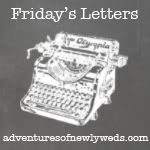 Dear husband:
thank you for being so patient and understanding this week as I have felt so horrible. Thank you for babying me a little - it's just what I needed. I hope to feel much better soon and then I promise I'll start cooking dinner again! :)
Dear work potluck:
can't wait to dig in today! Let the holiday
eating
gorging begin! I just hope my stomach cooperates since I haven't really been able to eat this week.
Dear Christmas list:
I need to add to you (for others, not for myself!). Why is it so hard to figure out what to buy certain people?? I can't buy the gifts until I know what to buy. Grrrrrr.
Dear ulcers:
just stop. Please.
Dear custom Christmas card companies:
I am overwhelmed by the options out there. Do I go with traditional? Modern? Single picture? Multiple pictures? Chevron? Polka-dots? Stripes? Yikes!
Dear DIY Advent calendar:
I have had you in my head for a year now. I just want you to turn out the way I've envisioned...k?
Dear Target:
I like the new Black Friday ads with the couple...but I miss the crazy bargain lady from the last few years. She was totes ridic and I loved her.
Dear Erin Condren:
can't you just have a sale on your planners already? I am desperately needing a 2013 planner, but can't bring myself to shell out $50 for one. I'm going to need a deal like I got last year.
Dear followers:
I hope you have one amazing Thanksgiving on Thursday -- and don't think twice about getting seconds (or thirds).