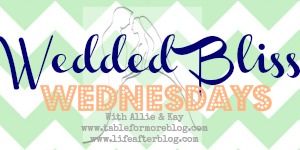 It's Wedded Bliss Wednesday again! Today the questions are all about what I expected marriage to be (before I was married, that is!). Join in and link up!
CHILDHOOD EXPECTATIONS OF MARRIAGE!
1. When you were a child what did you imagine YOUR Prince Charming to be like?
When I was really little, I thought my Prince would be a lot like my dad: outdoorsy, rugged and a farmer! But I knew he would have dark hair (no real reason, just what I always pictured in my head!).
2. Does you husband match your prediction as a child?
Alex is not what I would call "rugged" or very much "outdoorsy", and he definitely ain't no farmer! :) But he is one hotttt brunette.
3. What about when you were a teenager and knew it all about love, does your relationship match that scenario you had during those rebel years?
Yes and no. I wasn't terribly rebellious as a teenager, but my taste in men sure did change between dating my high school boyfriends and when I started dating Alex. I did think I knew it all about love in some ways, though. Isn't it hilarious to think that you will marry some boy you think is cute in 9th grade?? I mean, I know some people marry their high school sweethearts, but I think the vast majority of us THANK GOD for unanswered prayers (to quote Mr. Garth Brooks), know what I'm sayin'?

4. What love movie would you best match your relationship to? Why?
Definitely Pretty Woman...HA! Kidding.
Hmmmm....I have never thought about this. Honestly, it's probably because I've never seen a movie where I thought, 'That is so US!'. Once we started dating, we never once broke up. There was no rekindling of love or chance happening to bring us back together or cutesy way we met. It's just been us, together, from the beginning. To tell you the truth, a movie about our love story would be pretty predictable without any curveballs or twists. Just the way I like it!