Hey hey - I'm back on the WBW train! After two weeks of not feeling too fab (and not blogging too much), I really hated missing out on this link-up. It's such a fun one!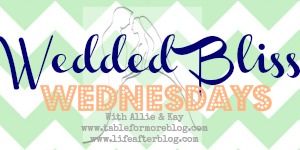 This week's questions are all about: MAN Fashion! :)
What is your husband's style?
His style is a mix of preppy, casual, and what I like to call Southern (which yes, I know, can encompass anything from bowties to camo. And it does).
He also likes getting dressed up...he LOVES a 3-piece suit!
What is your LEAST favorite piece(s) of his wardrobe?
I'm not even sure if he still has this shirt, but if he does, it has to be the Kenny Chesney concert t-shirt from probably 8 years ago (long before we met!). It is my least favorite because A) it was a concert t-shirt... B) It was faded and had shrunk, making it a little too short, and C) it had an obnoxiously large picture of Kenny in a Stetson on it. It was just all wrong and SO not Alex's style!! I never understood why he liked it so much.
If you have a picture show us!!
Sadly, no pic...IF it's still around, it must be at his parent's house.
(I shall try to locate and destroy next time we're there...)
What would you love for your man to wear?
My favorite look (and not one that he wears a whole lot, but will wear some in the summer) is a classic Southern boy outfit: a button down with the sleeves rolled up, khaki shorts, flip-flops and sunglasses. Ahhhhh, I LOVE it!
All in all, I LOVE Alex's style. He is such a great dresser and always looks very dapper!