Looking forward to a weekend in our Nation's Capital!
Tonight we are heading up to DC for the weekend and I'm super pumped. The last time I was there, I was 14 and on my 8th grade field trip. Somehow I think I will be seeing the city in a completely different light now...
The reason for the quick trip? Alex has training for his new job in Baltimore next week, and we have been talking about taking a little trip to DC for a while now. We're both museum nerds, and Alex is a major history buff. But if I want to be honest, the real reason we're going is because the Redskins game is at home this week, and A is a huge 'Skins fan. So there you have it!
We get in late tonight, so we'll probably just have time for some late night food and a few drinks. We'll really only have Saturday to explore, sight see, and - most importantly - eat. I've gotten some great recommendations on restaurants and, uh, wow, I might come home unable to wear pants. Everything sounds so delicious. Sunday will be dedicated to the tailgating and football, then I fly home and leave my man up there for his training!
_________________________________________________
And onto Friday's Letters with
Adventures of Newlyweds
!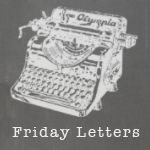 Dear DC:
prepare yourself. I am coming and I'm hungry. My husband and I are looking for a good time, mmmmkay?
Georgetown Cupcakes:
I adore your show. And you decorate your cupcakes really,
really
cute. So I'd love it if your lines were not super-duper long this weekend...
Dear Ellie:
I still feel guilty for not knowing your birthday was last Friday until 2 days later. But happy birthday, sweet puppy!
Dear Revolution:
I think I like you? I'm a hard one to win over on new TV series, especially anything remotely near sci-fi. But you left me with a lot of questions and I can't stop thinking about you!
Dear new followers:
welcome and thank you! Really,
thank you
. It means a lot :)
Dear Gators:
just keep winning! We have a long, hard road ahead of us this year, but you're off to a great start.
Dear Study:
you're looking good with your new desk. I think the hubs is digging you, too. Which is good since you are now his home office.
Dear husband:
congrats on wrapping up your first week at the new job! I love you!
Dear Fall:
as of tomorrow, officially,
welcome
!
Hope you all have one fantastic weekend!