Autumn over at
"Mrs." in the Making
recently hosted and organized a little Bloggie Swap. It was my first package swap, and it was so fun! I'm definitely looking forward to doing more!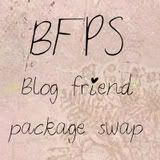 The theme of this swap was
Jewelry
...ohhhh yeah! Possibly my favorite thing on the planet other than donuts and cupcakes.
I was paired with Ali from
All Things Pink and Sparkly
and really enjoyed getting to know her over the emails we exchanged! She is a sweetheart. As if her blog name didn't give away exactly what her jewelry style is, I also had the chance to ask some questions about the types of jewelry she often wears and she did the same.
I was so excited to get my little package in the mail! She sent three things: two adorable, sparkly cocktail rings, and this awesome necklace:
Ali: you hit the nail on the head. I love how this necklace is simple but interesting, and pairs with my fall wardrobe perfectly with it's rose-gold and bronzy hues. Thanks girl!
Can't wait for the next swap! And a BIG thanks to Autumn for organizing it!