I don't know about you, but this week has
c r e p t
by for me. I guess it was the two 4-day work weeks I had in a row that spoiled me? Don't know. Anyway, today is FRIDAY so that is something to get excited about for sure!
This weekend, we have a few little social outings on our calendar. I am helping to host a baby shower this afternoon for a sweet friend and former co-worker. It's her second baby, and she's having another precious little girl almost exactly 2 years after her first! In terms of seasonal clothing, how lucky can you get?? (I always think about the practical side of things like that...)
On Saturday, we are heading to Columbia for the South Carolina game. It's a 7pm kick-off, thank goodness, because even with the lovely weather we've had lately, day games are generally just not as much fun, you know what I'm sayin'? I am going to sport my cute new garnet and black chevron dress that is exactly like the orange and blue dress I wore to the Gator game a few weeks ago. If it works, it works, am I right?
Sunday will be the day we get our home office all situated, since Alex will be working from home quite a bit in his new job. We already had a whitewash desk and bookshelves in our Study, but we wanted to add another (larger) desk for all his work stuff. You know, so he can stay organized. That makes me giggle...if there's one thing he struggles with, it's organization. But I'm willing to give him the tools! So we bought this corner desk from Pottery Barn
(squee!! I have been lusting over it for some time now):
It probably will never look anywhere near as perfect in our house as it does in the PB catalog (does it ever?!). The real trick will be fitting it into the room with all of our existing furniture, as it's a little larger than anticipated. But hey! Just more room for Alex to use in getting all organized and everything. [
stay tuned to see if that happens...love you, honey!
]
Anyhoo, lots to look forward to this weekend!
It's the freakin' weekend, baby I'm about to have me some fun!
(remember that jam?)
____________________________________
It's also time for Friday's Letters!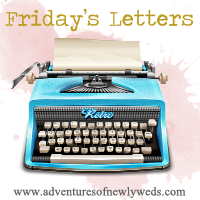 Dear Alex:
I hope you enjoy this weekend - your last before you start your job next week! I'm excited and nervous for you but know you will do great.
Dear beautiful new desk:
please fit in the study.
Dear mother nature:
thank you for this gorgeous weather you have been showing lately! But why do I have the sneaking suspicion that you will throw us at least one more heat wave before fall really arrives?
Dear furbabies:
with Daddy's new job, you are going to be home alone...all day...everyday. I'm really sorry about that. I feel bad thinking about it.
Dear job:
I really, really do love you. You have been such a blessing in so many ways!
Dear chambray shirt:
so glad I found you, dear! Who knew you (or one of your cousins) would be so difficult to track down and purchase?
Dear tailgate drinks, dips, snacks et al:
Tomorrow, we meet again. I will try to resist you, so please respect my wishes and try not to tempt me with your highly caloric but mighty tasty selves.
What are your plans for the weekend?
Have a great one, peeps!