Wow...I can't believe it's Friday already! This week flew for me. Just a perk of having Monday off. I have a great appreciation for national holidays that fall on Monday (unlike the Fourth of July this year...Wednesday?? Bleh).
Anyway, it's time for Friday's Letters!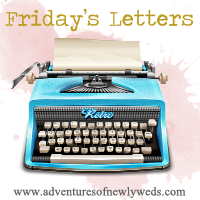 Dear Friday:
thank you for being you. You're pretty awesome.
Dear Pottery Barn:
why must thou tempt thee with everything in thy catalogs?
I freaking love you and your overpriced decor.
Dear bed:
I am looking forward to spending more hours with you tonight than I have in a long time.
Dear calorie counter app:
sometimes I just want to delete you. But it's best if I don't.
Dear Ellie:
please don't wake up too early tomorrow, k? Mommy wants to sleep in.
Dear Penny:
you look like a little lion right now with your hair all crazy and shiz. I like it but you're getting groomed on Monday, ya hear?
Dear DNC:
glad you're over...let's just get on with this election, please?
Dear treadmill:
sorry if you haven't felt the love this week. I just haven't felt like giving it.
Dear New Followers:
YAY! Thanks for the follow! I hope I am entertaining enough to keep you, well, entertained :)
Dear husband:
So excited about your good news this week! I love you! I'm super pumped for you and for us!!